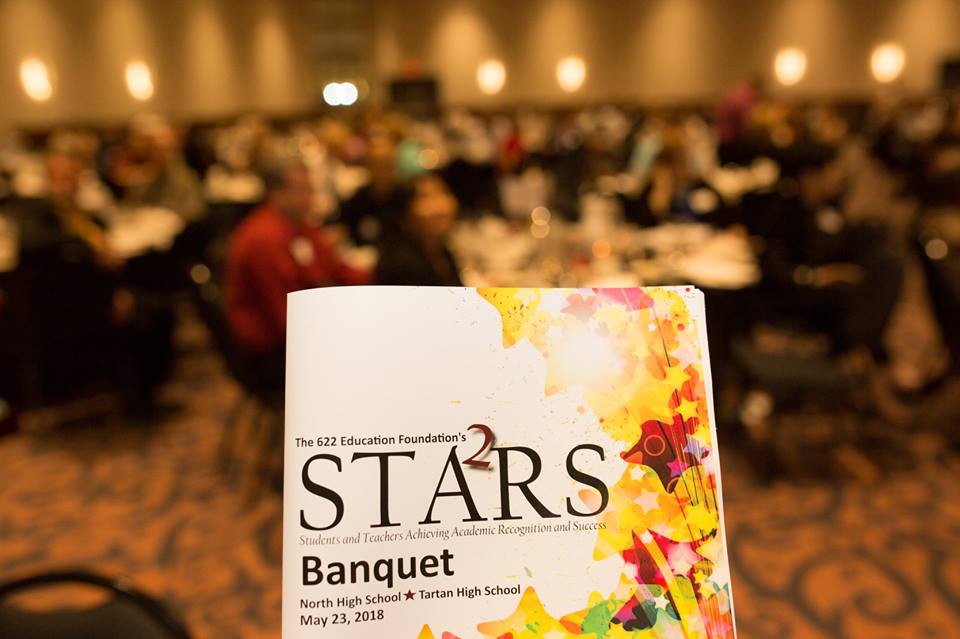 Special Thanks to our STA2RS 2018 Supporters:
The recent 2018 STA2RS Banquet was a memorable evening to honor the 
OUTSTANDING

achievements of top graduating students from Tartan and North High Schools, along with their mentor teachers and parents.
The 622 Education Foundation wishes to thank the community members who have helped support this annual recognition event and other Foundation fundraisers throughout the years.  Your participation and support ensures STA2RS banquets for years to come as well as continued funding for innovative projects and programs in District 622.  Special thanks to the following for helping make STA2RS 2018 a success:
622 EDUCATION FOUNDATION BENEFACTORS:
North St. Paul-Maplewood-Oakdale Rotary Club
Envision Event Center
THE FULTON KLINKERFUES SCHOLARSHIP
Donated by Kris Klinkerfues, daughter of Fulton Klinkefues
2018 TABLE SPONSORS:
Big Frog Customer T-Shirts and More
Century College
Chris and Amie DuFresne
City of Maplewood
City of Oakdale
District 622 School Board
Eberhard Group – Keller Williams Realty
Laura and Ed Hawkins
Janet and Tom Jacobson
Ledin Law
North High School Activities and Athletics
North High School Administration and Staff
North High School Family
North High School National Honor Society and DECA
North High School Student Council
North St. Paul-Maplewood-Oakdale Education Association
North St. Paul-Maplewood-Oakdale Principal Association
Oakdale Police Department – Youth Services
Old National Bank
Premier Banks
Stan Karwoski, Washington County Commissioner and 622 Education Foundation Board
STA2RS North High School Class of 2015
Superintendent's Cabinet
Tartan High School Activities and Athletics
Tartan High School Administration and Staff
Xcel Energy
SUSTAINING MEMBER:


United Way
STA2RS IN-KIND CONTRIBUTORS:
Envision Event Center
Specialty Floral
Sgt. Pepper's
STA2RS ALUMNI FAMILY DONATIONS:
Michael & Denise Barrera
Drayna Family
Corey & Lizabeth Pearl
GENERAL DONATIONS:
Cowern Elementary Parent Teacher Group
Carol and Jeffrey Decaire
Bruce Mogren, Carefree Cottages
Rodney Rowe
Eagle Point Parent Group
Salon Ultimo
Judith and Gary Stein
Trio Supply Company/Steven Isakson
Weaver Elementary Association of Parents and Teachers
622 Education Foundation Board Members
TO ALL OUR 2018 STA2RS SUPPORTERS, WE APPRECIATE  AND SINCERELY THANK YOU ALL!!